Help is Here: Vaccine News Update from Rep. Lieu
America is making great progress on the road to recovery. Thanks to President Biden's American Rescue Plan, we are getting shots in arms, money in pockets, children safely back in schools, and people in jobs.

This week, I'm pleased to announce that ALL Californians age 16 and older are now eligible to receive the COVID-19 vaccine! The vaccine is one of our best tools in ending this pandemic. If you haven't done so already, I strongly encourage you to get the vaccine as soon as you are able.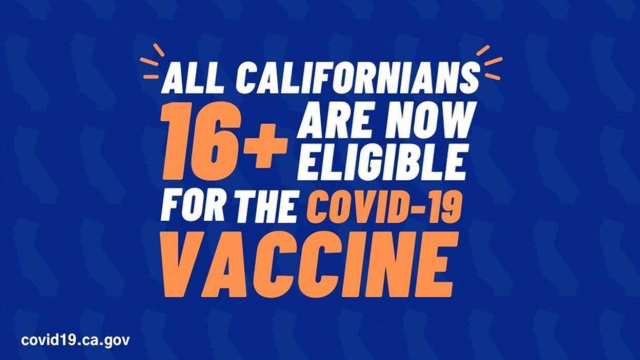 To book an appointment in Los Angeles County, please go to VaccinateLACounty.com or Coronavirus.LACity.org/VaxAppointment. If you have a disability or do not have access to the internet and need assistance making your vaccination appointment, you can contact the County's Call Center –– open from 8:00 a.m. to 8:30 p.m. –– at (833) 540-0473.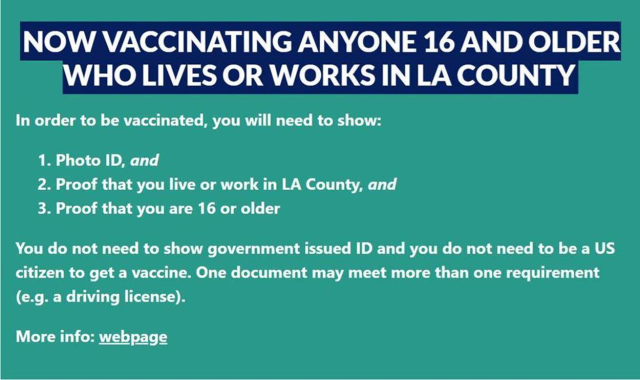 This week, the CDC and FDA recommended the U.S. pause its use of the Johnson & Johnson vaccine due to blood clot concerns. In response to the recommendation, California and Los Angeles County paused the use of the J&J vaccine out of an abundance of caution, and the LA Department of Public Health held a virtual town hall to answer residents' questions about the J&J vaccine. To watch the full town hall, please click here. For more FAQs about the pause, please click here.

Please remember – until all people are vaccinated, we must do what we can to stay safe, especially around those who may be at higher-risk for severe illness from COVID-19. That means washing your hands frequently; engaging in social distancing; and wearing a mask in public. Although the end of this pandemic is in sight, your actions can still save lives.

Help is on the Way to California
The pandemic and resulting economic crisis have had a severe impact on California over the past year. Since the beginning of the pandemic, more than 3.7 million people have been infected with COVID and more than 60,000 people have died in our state. In addition, the unemployment rate has increased from 4.3% to 9.3%; more than 1.6 million fewer people are employed; and 3.2 million adults (13% of all adults in the state) report not having enough food to eat. A crisis of this magnitude demands a big, bold solution – which is why President Biden and Democrats fought to pass the comprehensive American Rescue Plan to deliver relief to the American people.
The American Rescue Plan will provide California with:
$27 billion in state fiscal relief;

$18.5 billion in local fiscal relief;

Stimulus checks of up to $1,400 per person for more than 22 million adults and 9 million children;

More than $15 billion in relief for K-12 schools;

$3 billion to help more people of all incomes pay for health insurance through Covered California;

An increase in the Child Tax Credit from $2,000 to $3,600 for children under 6, and $3,000 for children under 18, lifting 553,000 children out of poverty.
For information on how the American Rescue Plan can help you and your family, please visit whitehouse.gov/american-rescue-plan.
Testing
All LA County residents who would like to get tested for COVID-19 should first contact their Primary Care Provider to see if they offer tests. If you cannot access a test through your health care provider, please visit covid19.lacounty.gov/testing or corona-virus.la/covid-19-testing to sign up for a no-cost COVID-19 test. Testing is recommended for those who:
Have symptoms related to COVID-19.




Were asked to get tested by LA Public Health because of a contact tracing investigation.




Were in close contact with someone who tested positive for COVID-19 in the past two weeks.




Work or live in a skilled nursing facility; group home; residential care facility; homeless shelter; or correctional facility.




Are experiencing homelessness.




Are essential workers with frequent contact with the public.




Don't have symptoms but believe they may have been exposed to COVID-19.



Additional Resources
Covered California opened a new special enrollment period to allow Californians to benefit from lower health insurance premiums available through the

American

Rescue

Plan

. Click here to enroll in health care coverage.
LA County residents can now apply for financial help for funeral expenses through FEMA's COVID-19 Funeral Assistance Program. Click here to learn more.

For CDC guidance on travel for fully vaccinated people, please click here. If you

plan

to travel, please remember to renew your passport at least 6 months in advance.

The West LA VA is now offering COVID-19 vaccines to veterans of ALL ages and their spouses or caregivers. Please call the VAGLAHS COVID-19 Vaccine Appointment Line at (310) 268-4900 to schedule an appointment.

Learn about and apply for the Los Angeles COVID-19 Emergency Renters Assistance Program, open through April 30th.
As we move forward on the road to recovery, my team and I will continue to share with you the ways the American Rescue Plan is helping our community. For more information on COVID-19 and vaccines, please visit covid19.ca.gov/vaccines and VaccinateLACounty.com and follow me on Facebook, Instagram and Twitter. I look forward to updating you again soon.
Stay safe.

Sincerely,

Ted W. Lieu
Member of Congress
Contact:
Janet Turner, Field Rep, Constituent Services
janet.turner@mail.house.gov, (323) 651-1040